The Bahmann Foundation was created through the generosity of identical twins Laura Belle and Emma Leah Bahmann. Foundation grants help fund services and purchase equipment that stimulate mental and physical activity in elderly adults.


Born in Cincinnati on March 17, 1901, the twins attended Sacred Heart Academy and graduated from Hughes High School and the University of Cincinnati, where they were members of Chi Omega sorority.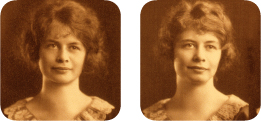 They lived together their entire lives in Clifton and College Hill, and neither twin married. Those who knew them recall active, quick-witted women with a zest for life.

In 1979, they entered the Scarlet Oaks Retirement Community, where they resided until Emma Leah's death in 1993 and Laura Belle's in 1996.



In their later years, Emma Leah suffered from Alzheimer's disease and Laura Belle developed a hearing impairment. Laura Belle discovered that assisted listening technology helped her resume activities that her hearing loss had taken from her.


Her final years were greatly enriched by this technology.


The sisters decided if there was a way to help alleviate similar problems associated with aging, they wanted to be certain the structure was in place to help others in the future.


In 1984, the twins established the Bahmann Foundation, which became fully funded in 1997 following Laura Belle's death. Although the twins left no descendents, their family name lives on in perpetuity through the work of the Bahmann Foundation.


For a free copy of the complete Bahmann Family Biography, click here.